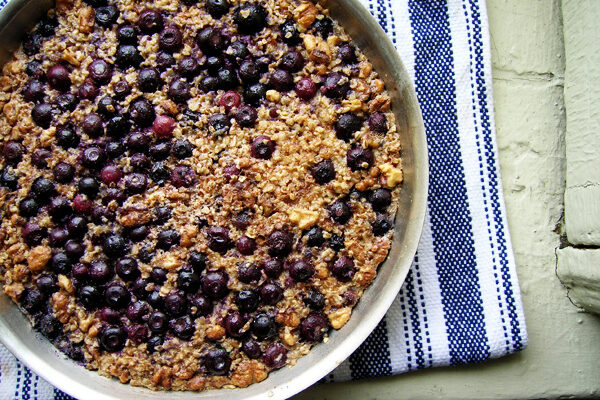 This blueberry baked oatmeal recipe is a family favorite, and can be served for any meal. At our home, we frequently do breakfast for dinner! If you don't care for blueberries, you can substitute other frozen or fresh fruits. Pour milk over each serving, or use whole cream for an extra scrumptious treat.
Fresh Garden Salsa: Lacto-fermented
Ingredients
4 large tomatoes, peeled and seeded
1 small onion
2-3 hot peppers (Jalepeno for hotter salsa, Hatch for medium, Ancho or Poblano for milder)
1 clove garlic
1-2 tsp cilantro, dill, or oregano (optional)
2 tsp non-iodized kosher salt (or sea salt)
Instructions
Peel the onion and garlic. Slice peppers in half lengthwise and remove seeds. Place onion, garlic, and peppers in a food processor and pulse until fine.
Add tomatoes, herbs, and salt. Pulse until it reaches desired consistency.
Pour salsa into a large canning jar. You want to leave about 1/2 inch of space from the top. Use 2 smaller jars if needed. If the salsa is thick you may need to add a touch of water so the chunks of tomato are submerged in the salt brine. Place the seal on and screw the lid on securely. Don't make it too tight or the seal could warp.
Place in a dark, dry cupboard for at least 3 days. DO NOT REFRIGERATE! Your salsa will begin to bubble slightly and may smell slightly tangy. This is good. After 3 days you can start to taste it. When it reaches the hotness and tanginess you like, place the jar(s) in the fridge. The flavor will continue to develop for up to a month.
http://nerdymillennial.com/blueberry-baked-oatmeal/
This recipe featured on: Party Wave Wednesday.
Photo Credit: alla Poppy
Vanessa founded NerdyMillennial as a platform for millennial creatives to share their passions, ideas, and expertise. Vanessa has lost over 80 lbs from healthy eating, fitness, and mindful living and wishes to inspire others to do the same. She also shares her knowledge about blogging, psychology, and culture.
Latest posts by Vanessa Pruitt (see all)