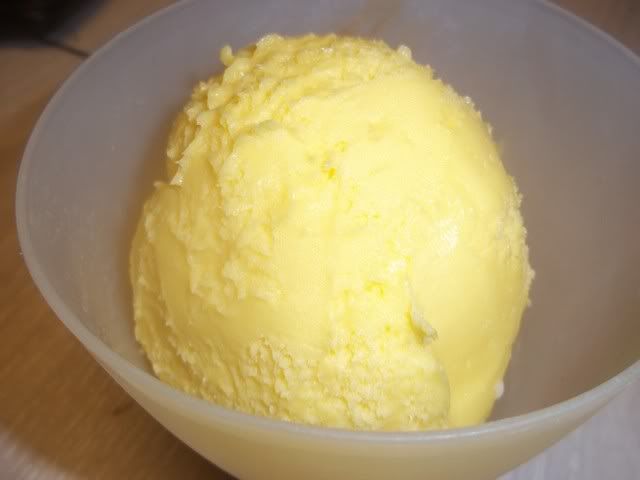 Homemade butter is delicious AND nutritious.  Despite what the media would have you believe, butter is something you definitely want to add more of to your diet.
Dr. Catherine Rött DNM has this to say about the health benefits of butter, "Fresh raw butter is essential for the enzymes present and the full fat necessary for proper hormone manufacturing in the body & cellular membrane damage repair. Without essential raw dietary fat, the body cannot absorb & utilize minerals properly. Butter is an excellent source of readily available fuel to sustain the body without spikes & dips as well as providing for satiety, feeling full.
Dr. Catherine continues to say that, "Until the relatively recent "fat phobia" in our culture, butter was a very valuable commodity. The pilgrims who came over on the Mayflower did so only after selling a considerable amount of the butter stores they had to weather the winter. One of the ships was not seaworthy and that resulted in them selling butter in Holland to purchase another ship. It was for this reason, amongst others, that so many lost their lives when the pilgrims did land in America. They had no butter to help sustain them during the long harsh winter."
Making butter at home is very simple.  You will need a food processor, fresh raw cream and salt if you like the salted version (our family does).
Two pints of cream will make about a half pound of butter, so plan accordingly.  Raw cream is a wonderful commodity, but if you do not have access to raw dairy, you may also use cream purchased from the store.  Keep in mind that you will not receive the same health benefits though,  as pasteurized cream has been heated and the enzymes are therefore destroyed.
Add 2 pints of cream to your food processor and set on the highest speed.  In my old dinosaur model, it takes about 2 minutes to go from liquid cream to a thick whipped cream consistency.   
Continue mixing on high until you start to see the butter curds forming.  It will be very evident when it happens.  I start seeing a "splash" of milk on the top of the food processor lid.  This is actually buttermilk.  This will take another 3-4 minutes on average.
Pour off the buttermilk and save to use in your pancakes or other recipes.  This can be easily frozen for later.
The fun part now begins.    Take your butter curds and start smooshing them into a ball.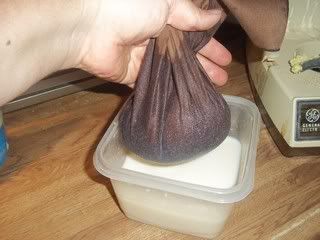 My 12 year old daughter loves to handle this part.  It is essential that you squeeze out any excess buttermilk so that your butter won't sour.    Squeeze and squeeze some more.  You can do this with your hands or put the ball of butter into a cloth napkin or other lightweight cloth and then squeeze.  This actually helps speed up the process for me.  Once you think you've removed the buttermilk sufficiently,  do the same squeezing action under cold running water.  That final rinse will ensure your butter is clean and free of buttermilk.   Place the butter ball in your container of choice and as an added measure, smash it with the back of a wooden spoon and pour off any additional buttermilk.  You really cannot squeeze the butter too much.  Add a small pinch of salt and stir, if desired. Pink Himalayan Sea Salt is especially good in this recipe.
Fresh, homemade butter should be stored in a covered dish.  For longer storage you can put it in the fridge or it can be left out of refrigeration safely for up to a week.  Just don't expect it to last even a few days once your family tastes it!
I know you're craving some homemade butter on a slice of warm, fresh from the oven bread right now, aren't you?