Don't Toss Those Old Jeans!
Jeans are like the all-purpose clothing, versatile and durable.  But what do you do when your favorite pair begins to fall apart, and you can no long wear them?  Rather than tossing them into the trash, here are a few ideas for re-purposing those old jeans into something cute, something new, something handy, or something warm.
1. Something Cute
The purse/handbag you see above was made from a pair of child's jeans, size 24 months.  If you don't have little kids rapidly outgrowing their jeans, you can find a pair at most thrift stores or yard sales.  Cut off the legs just below the pockets, and then sew an oval piece of denim cut from one leg around the bottom for a base.  You can sew a strap using denim strips from the other leg, or use a pre-made strap or handles from the fabric store.  With a colorful scarf or fabric strip threaded through the belt-loops, you have an easy, fun project!  Change out the "belt" to match a different outfit, and away you go!
2. Something New
The most distinctive thing about jeans is the pockets.  By cutting out the back pockets of several pairs of jeans, you can sew them together into a wall hanging that can hold Advent Calendar gifts, chore cards, keys, mail, or anything else you can think of to fill them!  If sewing isn't your thing, cut them out with pinking shears to make a zigzagged edge and glue them onto a piece of wall board before you hang them up.  You can decorate them with old earrings and pins for a unique, vintage look.
3. Something Handy
Old jeans make the best scrubbing rags of all time!  As a kid, I remember our cleaning closet was always full of old jeans, waiting to be cut up into cloths.  They wear well, wash easily, absorb messes great, and if you're like me, there's a never-ending supply!
4. Something Warm
Quite a few years ago (okay, a LOT of years ago), when I was still in school, I was looking for a sewing project to keep me busy during winter vacation.  I ended up hunting through the aforementioned closet full of cleaning rags and noticed quite a few pairs of old jeans piled up.  Pulling them out, I cut them into squares, kept the pockets intact, and sewed them into a simple quilt, with a bright cotton backing of bandanna print.  Since that time (for many, many years), my family has used the jeans quilt for everything from picnics to camping to extra bedding to cuddling up in the car on long trips.  We sit on it when we go to the park to listen to live concerts on Thursday evenings.  It has been our most durable and warmest blanket, not to mention the kids love to stick stuff into the pockets.  Since it started out with "character marks" the stains and holes it has acquired since then just blend right in!
So, there you go.  Just four out of the hundreds of things you can do with your old jeans rather than throwing them away.  If you have some re-purposed old jeans, please share what you have done with them in the comments section!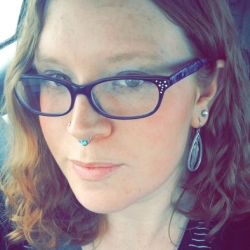 Latest posts by Vanessa Pruitt (see all)