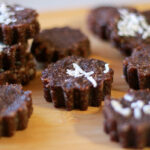 Print
Fruit and Nut Energy Bites
If you have a food processor, these fruit and nut energy bites are really easy to make. My kids are not big fans of dried fruit, but they will usually eat these if I make them.

In a food processor, add the almonds and process into very small pieces. Add the raisins and pulse until the nuts and raisins begin to form together. It should look kind of like one sticky ball.

Press pieces of the mixture into silicon molds. If you don't have any molds, press the mixture onto a piece of plastic wrap until it is about 1/4 inch thick. Cover and put in the fridge overnight.

When solid, remove the bites from the mold or cut into bite-size bars. Store in an airtight container in the fridge.