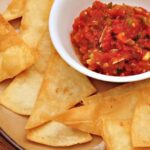 Print
The Best Low Carb Tortilla Chips: Baked
Looking for something savory and crunchy that fits within your keto lifestyle? I have the best low carb tortilla chips recipe that is just the answer!

Preheat oven to 400 degrees F

Line a cookie sheet with tin foil. Cut each tortilla into chip-sized wedges and arrange in a single layer on the cookie sheet.

Brush each tortilla piece lightly with oil

Bake for 5-6 minutes. Flip each chip with tongs, sprinkle with salt, and bake for another 5-6 minutes or until the chips are crisp, but not too brown. Serve with salsas, garnishes or guacamole.