Whole Grain Oatmeal Raisin Chewy Granola Bars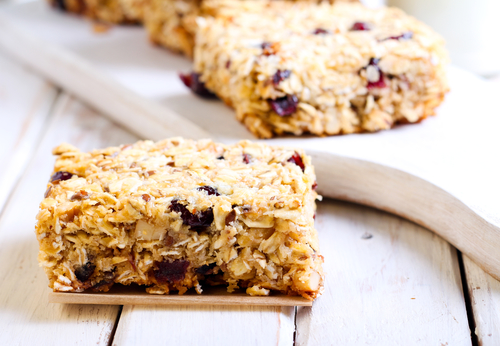 I love chewy granola and cereal bars, but the commercial brands are loaded with sugar and not-so-wholesome ingredients. I've tried many different recipes for homemade granola bars, but nothing has met my standards until this.
I adapted this recipe from a Betty Crocker cookbook that my mother gave me for Christmas. The original recipe used more sugar and pie filling. I replaced the pie filling with raisins (or cranberries), the excess sugar with honey.
Now, this is my favorite recipe for an on-the-go breakfast or snack.
Whole Grain Oatmeal Raisin Chewy Granola Bars
Ingredients
1 Stick (1/2 cup) unsalted butter or coconut oil
1 1/2 cup whole oats
1/2 cup whole wheat flour
1/4 tsp baking soda
1/4 cup whole cane sugar
1/4 cup honey
1 cup raisins, chocolate chips, or cranberries
Instructions
Preheat the oven to 350 degrees and grease a 9x9x2 pan. Melt the butter.
In a medium bowl, combine all of the ingredients. Stir until all of the dry ingredients are wet and a course mixture is formed.
Transfer to the pan and press firmly and evenly into the bottom of the pan.
Bake in the oven for 25 to 30 minutes, or until golden on the edges. Watch carefully so it doesn't burn!
http://nerdymillennial.com/whole-grain-oatmeal-raisin-chewy-granola-bars/