Creating Upcycled Garden Art That's Perfect For Spring
Creating your own garden stakes are hot this year! By using treasures found at garage sales and resale shops you can make your own for just pennies on the dollar.
It's a fabulous way to reuse old chipped plates and saucers and even tea cups. By staking them in your garden some can become an instant birdbath or feeder or even a place for butterflies to take a sip of cool water.
My garden friend Ruth Hardy recently gave a class at her beautiful home on how to construct our own garden stake whimsy. I had a lot to learn after observing the pieces the other women had brought to put theirs together with.
The first thing that caught my attention was the very bottom piece. It needs to be a long vase of some sort to be able to fit over a stake that you need to place in a flower bed. The rest of the pieces are just a matter of your own artistry in fitting them together.
The glue we used is found at the Hobby Store called E6000. I've been told by other garden friends that have made similar garden art that a clear Silicone type II also works, but takes a bit longer to dry.
If you would like to gather some more inspiration you are welcome to visit some photos I took during class at Thyme Square Gardens. You can also have a chance to win this beautiful garden stake during our Spring Fling Garden Hat Contest.
Sharing Heirloom Seeds in a lovely homemade muslin seed pouch that you can share with family and friends is another creative way to reuse fabric and buttons from worn shirts and dresses.
It is another way of passing on beautiful flowers and vegetables that you have saved seeds from in your garden. Perhaps they are even seeds that were passed on to you by your mother or grandmother.
What a grand gesture of preserving diversity through the tradition of passing along heirloom seeds this spring. I can think of nothing more special than growing your favorite flowers in my very own garden. Happy Spring and Happy Easter!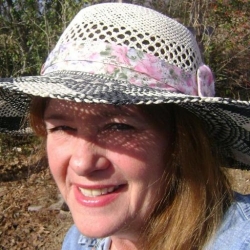 Latest posts by Pamela Kimsey
(see all)