Chocolate Coconut Almond Cookies – Gluten Free and Dairy Free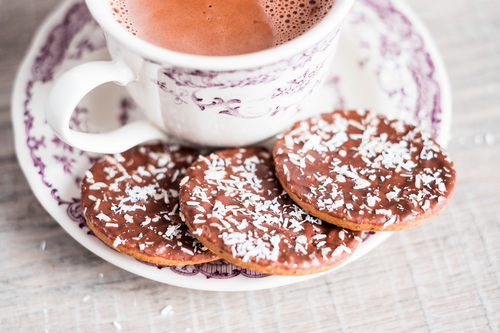 Gluten-free, grain-free, dairy-free
These delicious cookies are adapted from paleo samoas by elana's pantry.  Paleo samoas certainly satisfied my desire for a delicate cookie with chocolate and coconut, without a lot of work.
If you like making the chocolate/caramel topping yourself, the paleo samoa version is certainly a great recipe.
I thought I would simplify the cookie making process even more by just melting some gluten-free, dairy-free, soy-free chocolate chips by enjoy life. These don't have the caramel taste, but are even easier to make, with less ingredients to worry about, making them great to whip up last-minute.
Chocolate Coconut Almond Cookies – Gluten Free and Dairy Free
Ingredients
2 cups almond meal/flour
½ cup shredded coconut
½ teaspoon baking soda
¼ cup honey
1 tablespoon vanilla extract
1 egg
3 tablespoons coconut oil, melted
1 ½ cups dairy, nut, & soy free chocolate chips (I prefer enjoylife brand)

Recommended

: parchment paper
Instructions
In your blender of food processor, combine the almond meal, coconut, and baking soda. Add the wet ingredients and pulse until a dough forms. You may need to scrape the sides and pulse a few times to get all the ingredients mixed together.
Place the dough in the refrigerator for at least 30 minutes (overnight is fine.)
When you're ready to bake the cookies, preheat the oven to 350 degrees. Meanwhile, line cookie pans or sheet pans with parchment paper. Roll dough into balls – about a tablespoon at a time – and press down between your hands or on parchment paper, until you have circles that are roughly ¼ inch thick.
Bake for 10-15 minutes until golden brown. Allow the cookies to cool. Meanwhile, in a microwave safe bowl, heat the chocolate chips for 1-2 minutes until melted, stirring occasionally.
Drop about a teaspoon on each cookie and spread to cover the tops. Top chocolate with shredded coconut if desired. Allow to cool until chocolate is solid.
http://nerdymillennial.com/chocolate-coconut-almond-cookies-gluten-free-and-dairy-free/
Vanessa founded NerdyMillennial as a platform for millennial creatives to share their passions, ideas, and expertise. Vanessa has lost over 80 lbs from healthy eating, fitness, and mindful living and wishes to inspire others to do the same. She also shares her knowledge about blogging, psychology, and culture.
Latest posts by Vanessa Pruitt (see all)