Recipe for Traditionally Fermented (Pickled) Asparagus
Don't you just love using vegetables when they are in season?
But, what if you want to preserve the season's bounty for a later date? Fermentation is one method for doing that.
What is Fermentation?
There are many methods for preserving fresh vegetables. Fermentation is one of them. It's a traditional form of food preservation that involves submersing the vegetables in a salt brine and allowing beneficial bacteria (mainly lactobacillus) to take over.
If you are new to fermentation, here is a good primer from Economies of Kale: Lacto-Fermentation for Beginners
Asparagus is one of my favorite vegetables. Unfortunately, only one other person in my family shares my love of this green super food.
What was I to do with 4 bags of fresh asparagus that I bought on sale? Make asparagus pickles, of course!
Tips for Pickling Asparagus:
Use fresh, crisp asparagus. Too ripe asparagus will get mushy during the fermentation process.
Use organic if possible.
Sterilize your jars before you get started.
You will need tall pint and half mason jars so that the asparagus will fit.
What You Need:
Traditionally Fermented (Pickled) Asparagus
Ingredients
Organic Pickling Spice
Grey Sea Salt
Filtered Water
Fresh Asparagus Spears
Instructions
Prepare the asparagus spears: Rinse and pat dry. Cut off the woody ends. You may need to cut them down more so that they will fit in the jars.
Prepare the salt brine by mixing 2 TBSP of salt per 4 cups of water. Stir until dissolved.
Assemble the jars: Pour 1/2 TBSP of pickling spice in the bottom of each jar. Place asparagus in jars.
Pour the salt brine into the jars, making sure to submerse the asparagus as much as possible. Leave about 1/2 inch of space at the top of the jar.
Place the seal on and screw the lid on securely. Don't make it too tight or the seal could warp.
Place in a dark, dry cupboard for at least 4 days. DO NOT REFRIGERATE! Your asparagus will begin to bubble slightly and may smell slightly tangy. This is good. After 4 days you can start to taste it. When it reaches the tanginess you like, place the jar(s) in the fridge. The flavor will continue to develop for up to a month.
http://nerdymillennial.com/recipe-for-traditionally-fermented-pickled-asparagus/
 Pin It: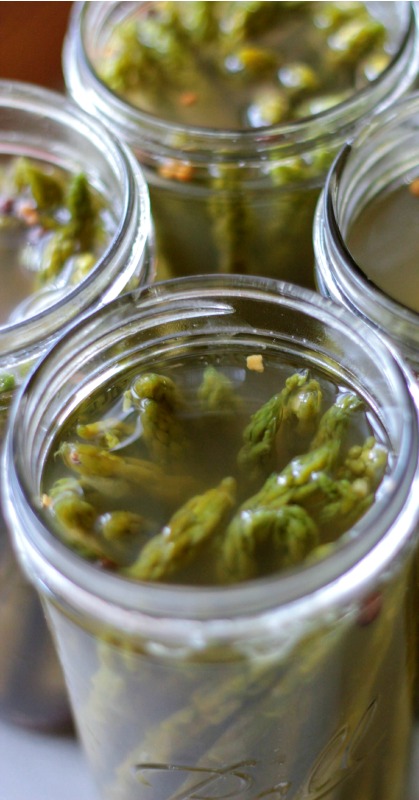 Vanessa founded NerdyMillennial as a platform for millennial creatives to share their passions, ideas, and expertise. Vanessa has lost over 80 lbs from healthy eating, fitness, and mindful living and wishes to inspire others to do the same. She also shares her knowledge about blogging, psychology, and culture.
Latest posts by Vanessa Pruitt (see all)