Banana Flax Chia Seed Pudding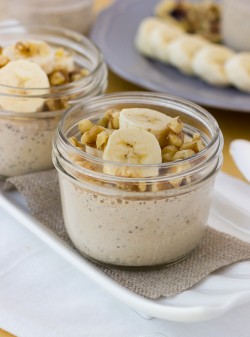 I must admit, I am fairly new to the use of chia seeds. As with most things, I hear about the benefits of eating new food, or the versatility it can offer in my kitchen but tend to hold off on trying it for myself until the evidence is mounting.
Well, the evidence that chia seeds are worth the money is definitely mounting!
The Benefits of Chia Seeds
Chia seeds are an incredibly versatile food. Who knew? Yes, the chia seeds that I and my fellow 80's children grew as mock animal hair in our kitchen windows. Come on, you know the jingle… "cha – cha – cha – chia!"
But as it turns out, chia seeds are full of nutrition and can be a very convenient ingredient to have around.
Let's take a look at their nutrition:
Chia seeds are high in omega 3 fatty acids, something we could all use more of in our diets!
They promote healthy digestion by relieving inflammation, diarrhea, and constipation
They are gluten free and grain free
They are a good natural source of magnesium
Aside from the nutritional benefits, this is the ultimate superfood to have in your pantry for several practical reasons.
Let's look at how you can use them in your kitchen:
Chia seeds make a great egg substitute if you ever run out of eggs (or if you are avoiding them).
They make a great natural thickener for gravies, soups, and more.
Chia seeds can be used to make healthy homemade pudding (like the Banana Flax Chia Seed Pudding recipe included below)
Check out more uses for chia seeds from the Wellness Mama.
Banana Flax Chia Seed Pudding Recipe
If you've already purchased your first package of chia seeds, here's a great first recipe to try.
This recipe is courtesy of Carrington Farms. All Carrington Farms products are certified organic, Star-K Kosher, gluten-free and non-GMO. From the pure whole seed flax to the chia blends and cold-pressed organic extra virgin coconut oil, all of Carrington Farms' vitamin and mineral-full health food products are a great way to start adding a little more nutrition to your everyday life. For more information, please visit www.carringtonfarms.com.
You can purchase chia seeds and chia seed blends on their website or at Amazon.com here and here.
And now for the recipe…
Banana Flax Chia Seed Pudding
Ingredients
1

banana mashed

2 1/4

cups

almond milk

2

tablespoons

honey or agave

½

cup

Carrington Farms Flax Chia Blend

Buy Here
Instructions
In a sealable jar or container, combine mashed banana, almond milk, and honey/agave

Close the container and shake to mix all the ingredients well

Add Carrington Farms Flax Chia Blend and repeat

Refrigerate for at 2 hours or up to 3 days, shaking occasionally

Serve with toppings such as extra agave, nuts, or dried fruit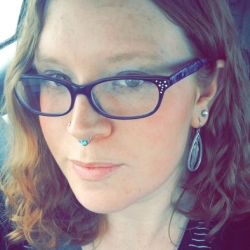 Latest posts by Vanessa Pruitt, PLMHP, MS
(see all)