Plus Size Yoga Clothes: How to Stay Comfortable
Yoga is one of my favorite ways to exercise. However, I remember when I first started and became frustrated at the annoyances and discomforts of being plus size and doing yoga.
I understand just how daunting it can be to begin an exercise routine. Sometimes it's not as simple as deciding to be more active. Being plus sized presents unique challenges and barriers to being more active.
As you begin, you may quickly realize that certain clothing and accessories are needed to ensure that you are comfortable during your workout. What's more, your clothing needs may change depending on the type of exercise that you are planning to do.
Unique Problem Areas
Every body is different, but there are certain areas that present a unique challenge among plus sized people. For instance, plus size women often have a larger bust size that makes it difficult and uncomfortable to jump, run, or perform other movements. Another common problem area is the thighs which can rub together during exercise and cause heat rash or other irritations.
Common Problem Areas:
Bust – A large bust may cause pain or discomfort during movements.
Tummy – Can get in the way or move too much during exercise, causing discomfort.
Arms – May move too much during exercise or skin may rub together causing a rash.
Thighs – Can rub together causing rash and/or discomfort.
Feet — Plus size bodies often require more comfort and support.
The good news is that there are solutions to these problem areas. We'll be discussing a few solutions below.
Plus Size Yoga Clothes Don't Have to be Expensive!
Chances are that you've come across the same expensive plus size yoga clothes and exercise clothing that I have. $80 bras? $60 yoga pants? No thank you!
The great news is that while these expensive items are marketed to plus sized people who want to workout without the discomfort, they are not the only option. There are more practical and less expensive ways to achieve the same (or better) results.
Below I am sharing some of the most affordable and practical options on the market. This comes from my own trial and error in trying to stay comfortable during my workouts. This list is meant to focus on clothing that would be best suited for yoga, but these items are useful for many types of workouts.
Plus Size Yoga Bra
For most women, a plus size yoga bra or wire-free bra should be sufficient for basic yoga practice. Women with a larger bust are often worried that these bras will not be supportive enough, but you may be surprised at just how comfortable and supportive they can be.
This type of bra comes in a variety of brands and styles. Just be careful when you are looking as some brands are very cheaply made. Pay attention to bras that have good reviews among women with larger bust sizes.
I highly recommend the Barely There Women's Get Cozy Wire-Free Pullover Bra and the Bali Women's Comfort Revolution Wirefree Bra with Smart Sizes. I own and love them both.
No Bounce Bra
For more strenuous exercise, or for women who are still having problems with bust movement during exercise, more support may be needed. For this, I recommend buying a bra that reduces bounce and movement in the bust area.
My favorite no bounce bra is the Glamorise Women's No-Bounce Full-Support Sport Bra, and I do not know how I ever lived without it!
Plus Size Yoga Pants
This one seems like a a no brainer, but finding a quality pair of yoga pants can get complicated, especially when they need to be plus size. Thankfully, there are some very good brands out there that are not ridiculously overpriced.
Danskin and Woman Within brands both have plus size yoga pants that can be found in big box stores like Kmart and Walmart. You can also find good plus size yoga pants (and read reviews) on Amazon like this Alki'i Women's Cotton Lycra Fold over Yoga Pant.
Don't feel like you need to stick to traditional yoga pants. If a drawstring pant is what's more comfortable for you, go with that as long as you can still comfortably do your yoga moves. If you have trouble keeping your yoga pants from falling down (like I do), and you still want to wear super comfortable yoga pants, I have some great solutions, so read below…
Tummy Support
It's an embarrassing problem to talk about, but one that many plus sized individuals must face when exercising… their tummy. Some of us just need just a little extra support in the tummy area to keep flab and jiggles at bay. If you wear your yoga pants on your waist, you may find that they fall down easily, especially if your waist is slightly larger than your hips. There are a couple of options that will help with BOTH of these problems.
The first thing I recommend is a belly band. These are typically purchased by pregnant and postpartum women for tummy control and comfort and to secure their waistband while transitioning to maternity pants. I had one left over from my pregnancies, which is when I discovered it is the perfect solution to falling yoga pants! It's purpose is two-fold: control a flabby or jiggly tummy and keep yoga pants secure during your workout. I recommend BellaBand (for the more high quality option) or My Belly Mama for a more affordable option.
Another alternative is to buy a stretchy nylon/spandex tank top like this Ingrid & Isabel Women's Maternity Everyday Tank. They make this style of tank top in both traditional tank tops and maternity tank tops. Both styles would serve the purpose of keeping your yoga pants on and offering a bit of tummy control.
Thigh Control
If you find that your thighs rub together during workouts causing pain and/or a rash, don't fret! There is something you can do about it. Try buying a long pair of tight fitting shorts or leggings (like these bike shorts) to wear underneath your yoga pants. This will reduce the friction on your thighs and hopefully prevent any issues.
No-Slip Yoga Socks
Last but not least is something for your feet. Yoga can be tricky enough without being plus sized. If you find that you still have trouble keeping your balance during a yoga workout, try giving yourself some extra support with these Grippy Yoga Socks.
And don't give up… it does get easier!
Stay At Home Yoga
You don't have to do yoga alone! Stay At Home Yoga is a professional yoga program that is designed to fit within your lifestyle. It will help you with:
Intentional self care
Restore your natural physical alignment
Restore your mind-body connection
You will get access to professional instructional videos taught by Jen Hoffman, a certified yoga instructor, that fit into every part of your life, including pose-by-pose practice, mini yoga breaks, 3-pose shorts, and full class series.
>> Click Here to Learn More about Stay At Home Yoga <<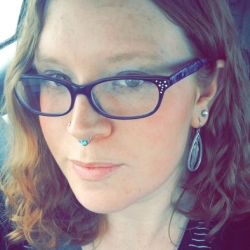 Latest posts by Vanessa Pruitt, PLMHP, MS
(see all)