Upcycled Simplicity Raised Beds And Containers
"A person who undertakes to grow a garden at home, by practices that will preserve rather than exploit the economy of the soil, has his mind precisely against what is wrong with us… What I am saying is that if we apply our minds directly and competently to the needs of the earth, then we will have begun to make fundamental and necessary changes in our minds. We will begin to understand and to mistrust and to change our wasteful economy, which markets not just the produce of the earth, but also the earth's ability to produce."
– Wendell Berry
I find that the true beauty within the garden is the garden itself. There is no color more fulfilling than shades of green. When the green is embraced by a rainbow of colors of fruits and berries, flowers and vegetables and fragrant herbs, there you find the crown where nature unfolds.
But there is a deeper beauty found within the garden that the eye simply cannot see. It is the beauty found through the heart of the gardener, knowing that she has not stolen away from the earth within her garden, but instead has nourished it and repurposed it. Why indeed would one wish to cut a perfectly good tree for boards to frame a garden when lush vintage boards aged with character lye about. Why would one leave a charming chipped pot to waste when there are herbs to adorn it. I think we should not leave things to waste when a garden can give it new life. More than that, I see no need to consume for things which we don't need. There are so many ways to upcycle what seems old or unwanted. I hope to share a few that I've found that you may like too.
For most of the raised beds within my garden, we've used old sheet metal that was pulled from the barn. In the picture above you can see that it works quite well. I love the look of a bit of rusty tin and prefer it to shiny new. It's here that I've created a potager of heirloom tomatoes mixed with companions of basil and bergamot. I also fill them with marigold, lettuce, onion, and nasturtiums. It's an awesome site to behold when combining your vegetables with flowers.
An old bathtub was used to create tiers of color with natives and herbs. All designed to attract wildlife and nourish them as well. I'm simply working my way around the tub by cloaking it with rocks and foliage. Leave nothing to waste I think, when such a grand container as this old bathtub can house Trailing Lantana, Butterfly Weed, Spanish Lavender, Spineless Cactus, and Amaryllis. I was able to create three tiers this way that drop off into a narrow path through the herb garden. The back side of the tub has tall Cannes growing that provides camouflage from spring until frost.
Cracked and Chipped pots should never go to waste as well as tin buckets and metal containers. They really bring a lot of charm into the garden simply placed here and there. This one was spotted peeking out of a dumpster on its way to the landfill. If truth be told there were actually 6 cool containers spotted in this particular dumpster. Most of them had the bottoms missing, but when nestled down in the earth like this old pot and filled with Sweet Potato Vines no one minds at all that it is cracked or broken.
It is time well spent in giving back to the earth instead of robbing it from all its natural resources. If we could use this frame of mind in our everyday lives, I think we might leave a better future for the next generation. Happy Gardening!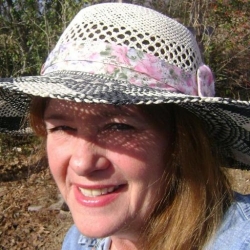 Latest posts by Pamela Kimsey
(see all)