We the Eaters: If We Change Dinner, We Can Change the World
It's a classic american meal, a cheeseburger and fries, but what do you think of when you eat it?
Do you think about how each of the ingredients got to your table? Do you think about how the production of each of those ingredients has impacted the rest of the world?
If you do, you are undoubtedly in the minority. The majority of Americans want their burger and fries without a side of guilt, and they want it as quickly and cheaply as possible. Herein lies the crust of the problem according to Ellen Gustafson, cofounder of FEED and Food Tank, and the author of 'We the Eaters'.
As the subtitle of the book says, Ellen believes that "If We Change Dinner, We Can Change the World", and it doesn't seem like such a far stretch when you consider that the entire way that we produce and distribute food, both locally and globally, has undergone one of the biggest shifts in history in the last 40-50 years.
While the most vocal mega corporations and organizations in our country (including government organizations) would like you to believe that all of these changes are for the "greater good", Ellen is not afraid to peel back the layers and reveal that many of the changes our food system has undergone are for nothing more than to profit those who run it.
What Do Food Scarcity and Obesity Have in Common?
With some of the most "sophisticated" food systems in history, and phenomenal mass production and distribution of food, why is it that we still have so many hungry to feed around the world? Why are these problems not getting any better?
In America alone, 14.5 percent of Americans were considered food insecure in 2012, meaning they lacked access to enough food for an active, healthy life for all household members, yet more than one-third of all American adults are considered obese.
As Ellen says in her book:
There are currently a billion overweight or obese people in the world, and the number is escalating. There are close to a billion hungry people in the world, and another billion who are micronutrient deficient. And we can't seem to fix these problems. – Ellen Gustafson in 'We the Eaters'
She goes on further to explain that this phenomenon of obesity alongside hunger is not exclusive to the US. When she was in Uganda, a "pocket of extreme hunger", she saw an alarming number of people who were obese.
What Ellen has done in this book so eloquently is to sum up how these issues are interconnected. The current food system of fast, industrialized, fattening, and vitamin depleted foods is NOT solving our global food problems, but in fact is making them worse.
A Healthy and Sustainable American Classic
As Americans, we are spoiled when it comes to food. We have been conditioned to want food that is fast and cheap, and the majority of us complain when a fast food cheeseburger costs us more than one or two dollars.
But despite spending less on food, Americans are getting sicker and fatter than ever. In 1929, the average American household spent 23.4 percent of their disposable income on food. Compare that to 13.2 percent in 1980 and 9.8 percent in 2011. Contrast this with the difference in what we spend on healthcare: 5 percent of household disposable income in 1960, which rose to 16 percent in 2008.
Our country has swapped healthy and nutritious foods that cost more and take more time, for cheap, fattening, and nutrient depleted foods that take us mere minutes to make, and it's showing in the health of our nation.
Rounding out all of the information in 'We the Eaters' about how food is produced and distributed, Ellen gives simple advice, that changing the American classic of a cheeseburger and fries, swapping out mass produced ingredients for more locally grown and sustainable ingredients, can literally change everything: our health, our waistlines, our communities, our country, and our world.
Why I Recommend 'We the Eaters'
This is a hefty book, full of juicy facts about how are food is produced and distributed around the world. It is only for people who want the truth, no matter how rotten it is.
Yet Ellen has a unique way of putting a positive spin on each bit of chilling information, and she doesn't leave us dripping with negativity. Alongside her bold look at the reality of our food system, she gives invaluable insight into how we can change it for the better.
In my opinion, this is one of the most important books of our time.
Not only is Ellen willing to dig down to the real truth behind the food we eat and the decisions we make as a society, but she also illustrates the big picture of how all of these things impact our entire world. We need people like Ellen who are bold enough to dream of a better world for us and for the generations before us. It all starts now.
Click here to read: We the Eaters: If We Change Dinner, We Can Change the World
**Note: I received this book as a free review copy and was not compensated in any way for the writing of this review.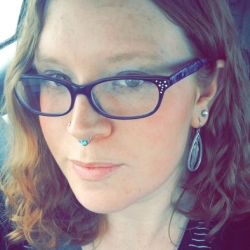 Latest posts by Vanessa Pruitt, PLMHP, MS
(see all)