Keto Chocolate Chia Seed Pudding Recipe
Are you looking for a quick and easy make-ahead breakfast that will satisfy your hunger and your sweet tooth in the morning? Learn how to make this keto chocolate chia seed pudding recipe!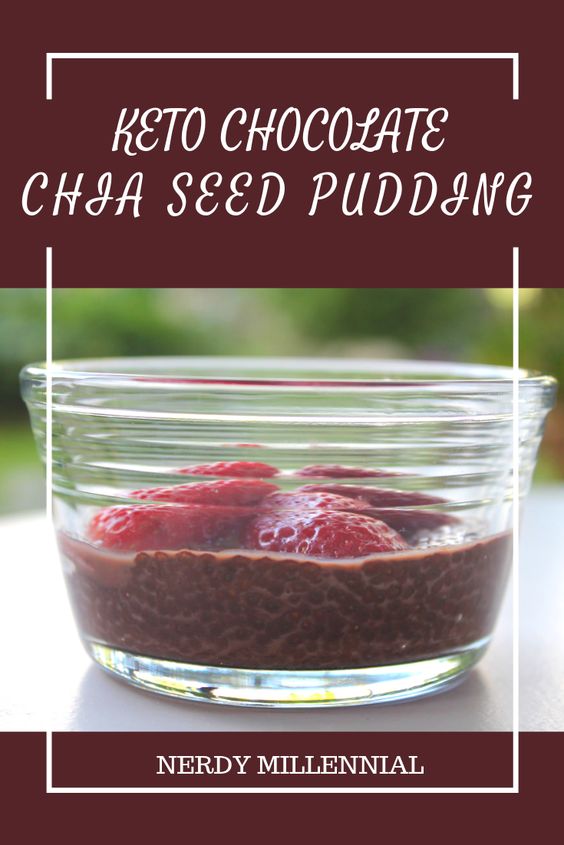 Not only does this recipe make a great breakfast, but it also makes a filling snack or dessert. It's so versatile, and delicious.
Why Make this Keto Chocolate Chia Seed Pudding Recipe?
This keto chocolate chia seed pudding recipe contains about 5g net carbs per  1 cup (approx.)  serving, which is reasonable for a keto breakfast (if you ask me).
You can easily mix up a batch in the evening, and your breakfast is done and waiting for you in the morning. Or, mix up a few batches to store in the fridge, and you'll always have a delicious and handy snack on hand.
I like to mix mine in a portable container for an on-the-go option.
Add a 1/4 cup of strawberries, raspberries, or blueberries on top for a nice touch and you'll only be adding an extra 2-3 net carbs.
Keto Chocolate Chia Seed Pudding Recipe
Ingredients
Instructions
Combine all ingredients and mix well. The easiest method is to put all of the ingredients in a mason jar or container with a lid and shake vigorously until well combined. Store in the refrigerator for 2-4 hours, or overnight.
If the pudding is still too thick, add more unsweetened almond milk or water until desired consistency is reached.
Top with 1/4 cup strawberries, blueberries, or raspberries if desired.
http://nerdymillennial.com/keto-chocolate-chia-seed-pudding-recipe/
If you like the recipe, please share!
Vanessa founded NerdyMillennial as a platform for millennial creatives to share their passions, ideas, and expertise. Vanessa has lost over 80 lbs from healthy eating, fitness, and mindful living and wishes to inspire others to do the same. She also shares her knowledge about blogging, psychology, and culture.
Latest posts by Vanessa Pruitt (see all)