A Georgia Dream Potting Shed At Barton Hollow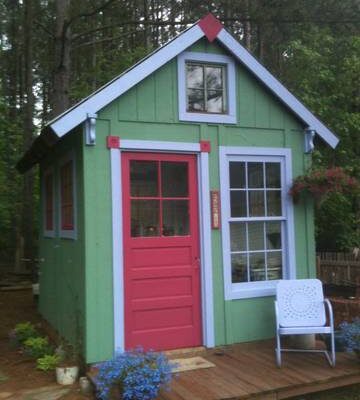 I was immediately curious upon first glance of the charming photo Cindy Barton had posted in our garden group of her newly finished potting shed.
As she began telling me the story I quickly learn that this is a potting shed with a house number. This was also the beginning of Cindy Barton's dream come true. The story of 521 Barton Hollow to be exact.
"The furring strips and the paint were probably our biggest expense, but all told, we have spent only $521.00," she said. Now I understand how they got the house number!

"My husband made the cute house numbers out of old Georgia license plates he had cut and made a frame for it and painted it."
I just couldn't imagine in my wildest beautiful potting shed dreams that something with this much sweet southern charm could be constructed for such a price. But it was creativity, shear will, hard work and determination that played the role in bringing this dream into reality.
"I loved plants and I loved antiques because they just seemed to go good together," she began telling me. "I caught the auction bug and purchased lots of cool old stuff including an old enameled top table and enameled top Hoosier base that I knew would make great potting tables. And even an old abandoned jelly cupboard which would go in the potting shed I hoped to have one day. All along I dreamed of that potting shed sitting up on our hill under the old oak tree."
Cindy's strong desire and vision to achieve her goal is so inspirational. Couple that with a talented and devoted husband like Clark, one might find what dreams are truly made of.
Cindy's dream first began after moving to Georgia from Arizona over seventeen years ago and she never gave up hope. "We didn't have the money to purchase all new materials, so we decided we could ask friends if anyone had extra lumber lying around, or an old shed that needed to be torn down, or whatever.
"Clark and I spent a day tearing apart an old shed that netted us the wonderful old tin roof, the old oak beams we used for the headers above the windows and the door, some 2×4's and 2×6's, and the siding for the gable ends."
"Clark managed a cabinet company and they had this left over pine tongue and groove flooring from a job in their warehouse. His boss told him he could have whatever was left. He decided to turn it over and use the back side of it so it looked like old floor planks and not tongue and groove. It was also out at his job that he found the free antique wood door. "
"A couple from our church had some old porch decking from an above ground pool they had gotten rid of and they said we could have it. I wasn't sure where we would use it because they were short pieces, but I wasn't going to say no! The wood ended up being the perfect size for the potting shed's front porch and I made some flower beds with it too."
The story of 521 Barton Hollow does not end here. From finding charming old windows for $5 a piece, antique wooden rosettes, old octagon stepping stones from the sidewalks of downtown Atlanta, a piece of picket fence and awesome corbels, Cindy and Clark's potting shed came together piece by loving piece.
To get a closer look at how it was all constructed and for some ideas on creating your own charming potting shed take a look through The Barton Hollow Project Book.
You will also enjoy taking a lovely stroll through some beautiful southern Georgia landscaping for even more inspiration, color combinations and flower ideas at The Barton Hollow Garden Book.
"I truly have my dream potting shed and I love the fact that we were able to keep costs down and also recycle materials that would of been thrown in the trash or burned. So, if you're ever in the Atlanta area, come sit with me and sip a tall glass of sweet tea in my rescued metal chairs or glider in the shade of the big pine trees next to my recycled dream cottage potting shed."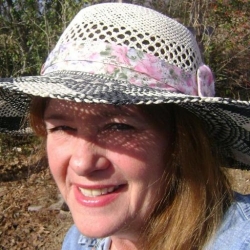 Latest posts by Pamela Kimsey
(see all)