10 Secrets to Dating Successful Women
Here are ten golden rules for dating successful women that will make you more attractive to them.
In today's society, there are more successful women than ever before, making a name for themselves in both professional and personal fields. It isn't about making a good first impression or spending money on the merchandise you don't have to keep her interested.
You will be well on your way to building a successful relationship with a successful woman if you follow these ten effective dating tips.
1. Take time to listen to her opinions
I believe it's important to listen to her opinion and to accept it (even if you do not agree with it). I believe someone who can listen and comprehend what you say is one of the greatest qualities in dating.
Is there anyone among us who enjoys repeating simple things over and over again about ourselves? In forming relationships, communication is always stressed as one of the keys. What many people fail to realize is that knowing how to effectively communicate your needs and what you have to offer is only one part of the equation.
Another key to a successful relationship is learning how to read and listen to cues. Lastly, according to a study published in the journal Science of Nature, a good listener is actually one of the most appealing characteristics you can possess, particularly if you are hoping to attract female partners.
2. Don't be afraid to take action
It is generally assumed that both parties contribute fairly equally to a healthy relationship. Successful women must be intelligent and capable of planning and deciding, but that doesn't mean they will plan and organize all your date nights for you. If you want to know what she likes, you should ask:
I'd like to take you on a date. Do you want to do Friday or Saturday evening?
I've chosen a couple of places for dinner. Do you want to do Italian or Mexican food?
Let's go see a movie. Do you want to see an indie film or a romantic comedy?
It will mean even more to her when you plan something romantic for her knowing you took the initiative to make her feel special. No matter how good she is at organizing her social calendar, even the most successful of us need a bit of time to sit back, relax, and enjoy being pampered once in a while.
3. Don't flaunt your bank account
A woman with a lot of power doesn't care what kind of car you have or what kind of house you own. They have plenty of money to buy either without your help. If a man was arrogant, narcissistic, and constantly talked about his money, most women with good consciences would run from him, even if he had real money in his pocket.
I don't mean this to be an exhaustive list, but it is a fairly good start for identifying the traits that turn career-savvy men away from successful women (and others).
New research suggests that wealthy men may not be viewed as attractive partners by women.
Women perceive flashing their cash as a sign that a man is more interested in a short-term sexual relationship than a romantic commitment, according to the University of Michigan study.
4. Treat her with courtesy, respect, and support
No matter how wealthy and influential a woman is, you should always treat her with respect. The most successful women are not likely to let anyone who is not worth their time or energy get the better of them.
In the digital age, staying present on a date is more important than ever. Keep your phone away from both of you whenever possible except in emergencies or if she really wants you to Google the name of the actor from the movie you're discussing.
Often, successful women will prefer to be contacted directly rather than through text messages. Do not try to reach her while she is busy with work or another of her many responsibilities. Getting back to her as soon as possible is also important.
To show respect, each must respect the other's time. If she has work in the morning, do not expect her to rearrange her schedule to meet at a time or place that's convenient for you. She may also not want to stay overnight at your residence. She respects your time as well, as she knows how valuable it is to her. Ensure that you arrive on time and in good shape at every rendezvous. Having the appropriate attire and being well-groomed on every date shows you care, even if you aren't a millionaire.
The most important thing is to support her achievements. Peers can be very critical and negative towards high-achieving women. Be sure to demonstrate your concern for her success. Despite the fact that she can pay her own bills, she still needs awesome people like you to support her throughout her career. Celebrate her victories and comfort her during setbacks, it is in your best interests as a man when your relationship is successful at dating successful women.
5. Treat her often
Whenever you do something nice for a girl, they love it. There might be some tasks that she has to do, such as filling up her car with gas or changing the light bulbs at her house. Despite having been described as simple things to you, but to her, they are invaluable. Your heroism will be second to none.
Do things she would appreciate, such as giving her a foot rub or buying her flowers without reason. Sometimes the little things… are actually the most significant ones, especially when dating successful women.
6. Pursue your own goals and passions
It's important for a couple to have two ambitious partners if they want to have a successful relationship. It's hard to be with someone who's less motivated than you when you're in a relationship.
In order to support an ambitious, driven woman, the man must have a similar working environment. Men need to be on a similar path to understand, appreciate, and support this kind of woman. Relationships today aren't just about one person putting their life on hold and becoming the other, but two people combining.
Who are you? What are your passions? How is your partner different from you? Have you seen a mat since you formed your union even though you were a yoga addict prior? If you want to have a date night with your mate, it's okay to miss classes occasionally, but you shouldn't deprive yourself of self-care in the process. The same goes for demanding they give up something they enjoy.
Your shared interests probably contributed to your attraction to your partner. It does not mean that your solo joys have to be sacrificed. Having your own passions will make you that much more attractive to
7. Respect her individuality and independence
It is impossible not to think about someone whom you are in love with. Spending your daily waking hours with them and taking care of them is natural. Nonetheless, maintaining individuality and independence is key to keeping a healthy union – and respecting the other person's individuality as well.
Respect the uniqueness of your relationship by looking at the best ways to respect the individual.
There are certain things with which every couple is comfortable to a different degree. Others consider that too much togetherness when their partner and they are talking in the bathroom. While maintaining a healthy level of separation, you will be able to grow closer to your beloved if you communicate openly and keep your eyes on why you love them.
8. Always be direct and honest
The woman in a man's life [or anyone in his life] should never be disrespected or abrasive, but honesty and integrity are essential factors to making a relationship work. Strong women can never be interested in a mushy man because she will walk all over him and he will not provide her with stability.
Although he should never be aggressive, it is a good sign if a man is flexible with such a woman and able to stand his ground when necessary. Her respect for him will increase because of it. Being respectful, yet direct and honest, will help you in dating successful women.
9. Treat her as an equal
Any man who is interested in dating successful women will not end his compliment with "you know, for a girl." The right kind of man will be able to effectively build a relationship with a woman who is as independent as she is.
In other words, it means respecting her opinions and letting her know his own. Listening deeply and having meaningful discussions with her is key. You should never assume her inability to teach you new things or introduce you to new experiences – some of life's most valuable lessons will come from her.
10. Offer your skills at home
In case they're intimidated by the list above, it's at least important that men can demonstrate practical skills around the house. Traditional masculine tasks include mowing the lawn and fixing things around the house. Men should also be equal partners in taking care of housework and children.
The key to attracting a successful woman is to learn how to do these tasks. It is common for successful women to be self-sufficient and adept at caring for their homes and family. They expect the man in their life to take as much care of them as she does.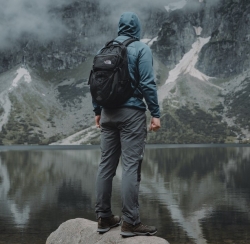 Latest posts by Ian Walsh
(see all)