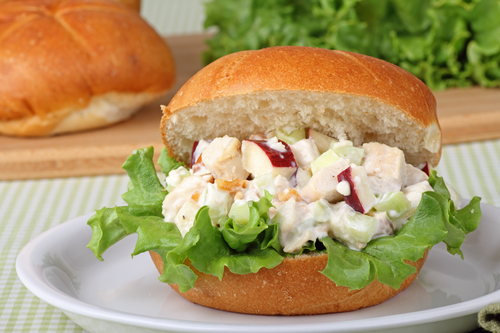 This chicken salad is so easy and so versatile, we have it quite often when a quick sandwich is in order.
And, it is healthy! 
You can substitute or mix up any of the veggies or the apple.  Use what you have on hand
Ingredients
6 oz (about 1 cup) cooked diced chicken
1/4 cup cheese, shredded
1 medium apple, chopped fine
small amount of green onion (or celery, or diced carrot)
1/4 cup raw zucchini, grated
1/4 cup cucumber, diced
4 TB or more mayonnaise (enough to cover mixture)
1 tsp dill weed (or black pepper, or oregano)
2 tsp sweet Hungarian paprika
dash of salt
Instructions
Mix all ingredients in bowl, stir to combine.
Serve on bread, crackers, in pita pockets, or rolled with lettuce in tortillas.
http://nerdymillennial.com/chicken-salad/
Aadel has been married to her career Army man for 13 years and they have 2 daughters and a freshly made son. She is a homeschooling mom, volunteer, and online college student. Her hobbies include cooking, organic gardening, sewing, and crocheting.
Latest posts by Aadel Bussinger (see all)