Dollar Store Fidgets and Sensory Toy Ideas for Kids with Autism
As you may know, this blog covers a variety of topics; Blogging, healthy living, relationship, and dating advice, and parenting, to name a few. However, one broad topic I (or my guest posters) have not broached is the topic of parenting special needs children.
I have not shared this openly here before: I have a son with Autism Spectrum Disorder (ASD for short). And one intention I have for the blog this year is to share more advice, tips, and information about ASD and special needs parenting.
ASD is very prevalent in the general population (approximately 62 cases per 10,000 people; Elsabbagh et al. 2012), so I am fully aware that a large number of my fellow millennial parents also have a child with ASD.
ASD and Sensory Processing
I'd like to kick off the introduction of this topic by sharing some dollar store fidget and sensory toy ideas.
Having a child with ASD can be expensive. Kids with ASD usually have a range of sensory processing/integration difficulties. My son uses a variety of fidgets and sensory tools in order to manage his sensory issues on a daily basis.
Sensory items my son uses include noise reduction earplugs, noise-canceling headphones, and a variety of fidgets and sensory toys.
This past week, we decided he was due for some new fidgets and sensory toys for school, daycare, and home. Here are a variety of dollar store items I found that I think make great sensory items.
Squishy Balls and Toys
I found a variety of squishy novelty balls and toys in the toy aisle of my local dollar tree. Below is a picture of a squishy frog and two "kush" style toy monsters. My son loves to pull on the legs of these toys and squish them between his hands.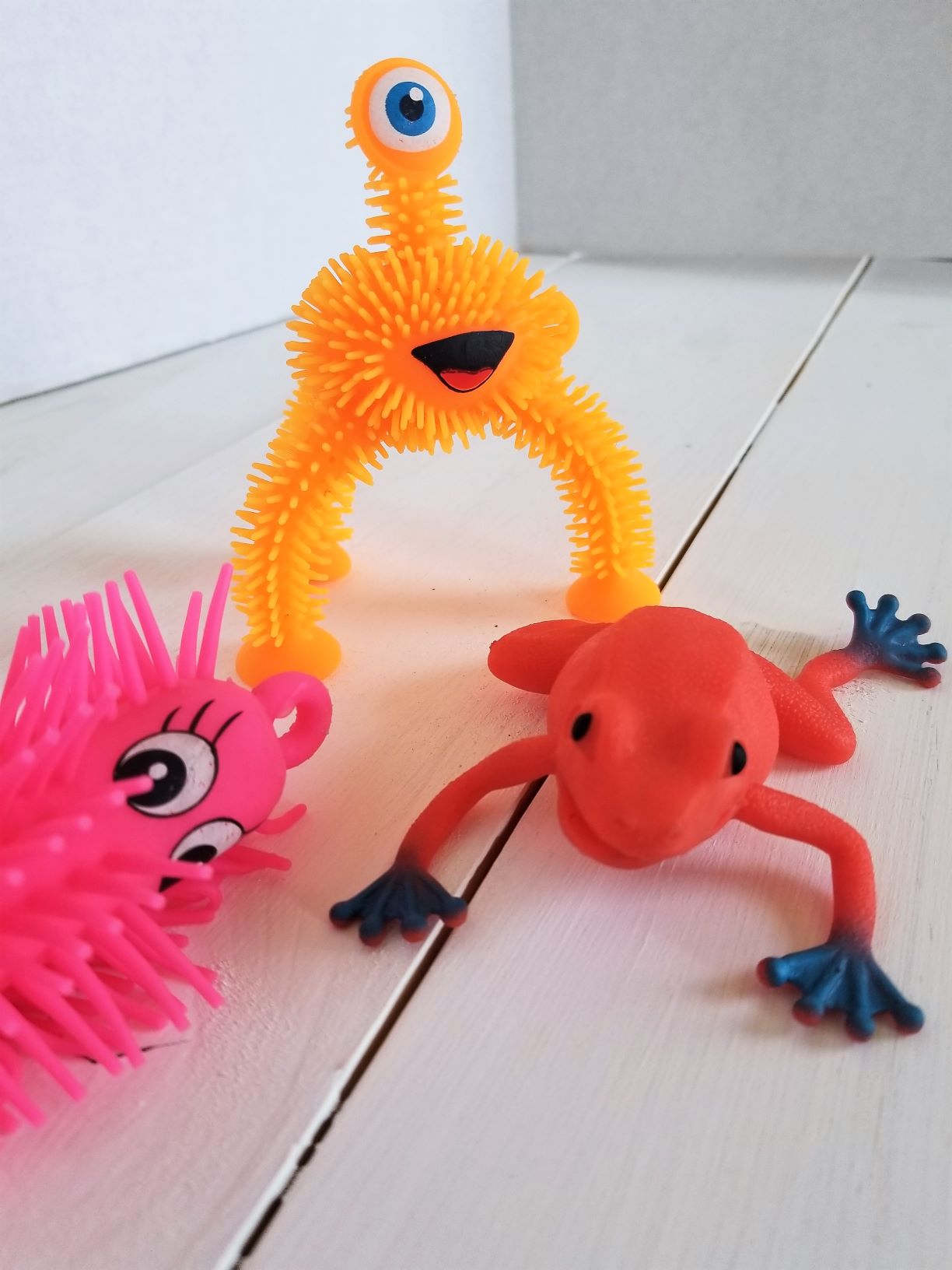 I also found some of these beaded novelty balls. However, I will warn you that rough play will cause these toy balls to break open. My boys got a little carried away with it, and it popped.
I do not recommend the beaded novelty balls for younger children or for children who have difficulty understanding how much is "too much" pressure when playing with them.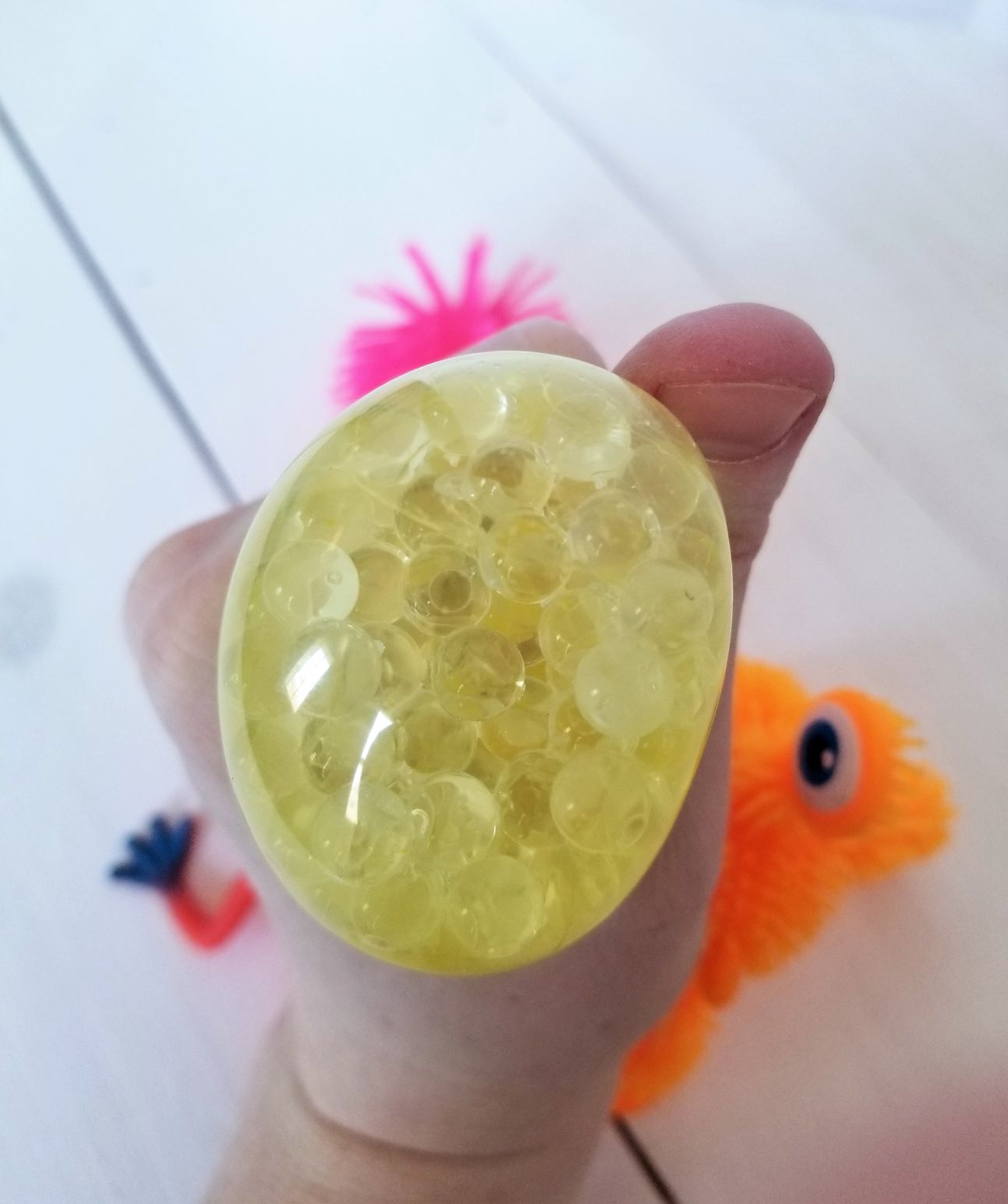 Although not pictured here, I also found a variety of squeezable novelty animals. These squeezes are great for both sensory play and also for strengthening a weak hand grip.
Speed / Puzzle Cube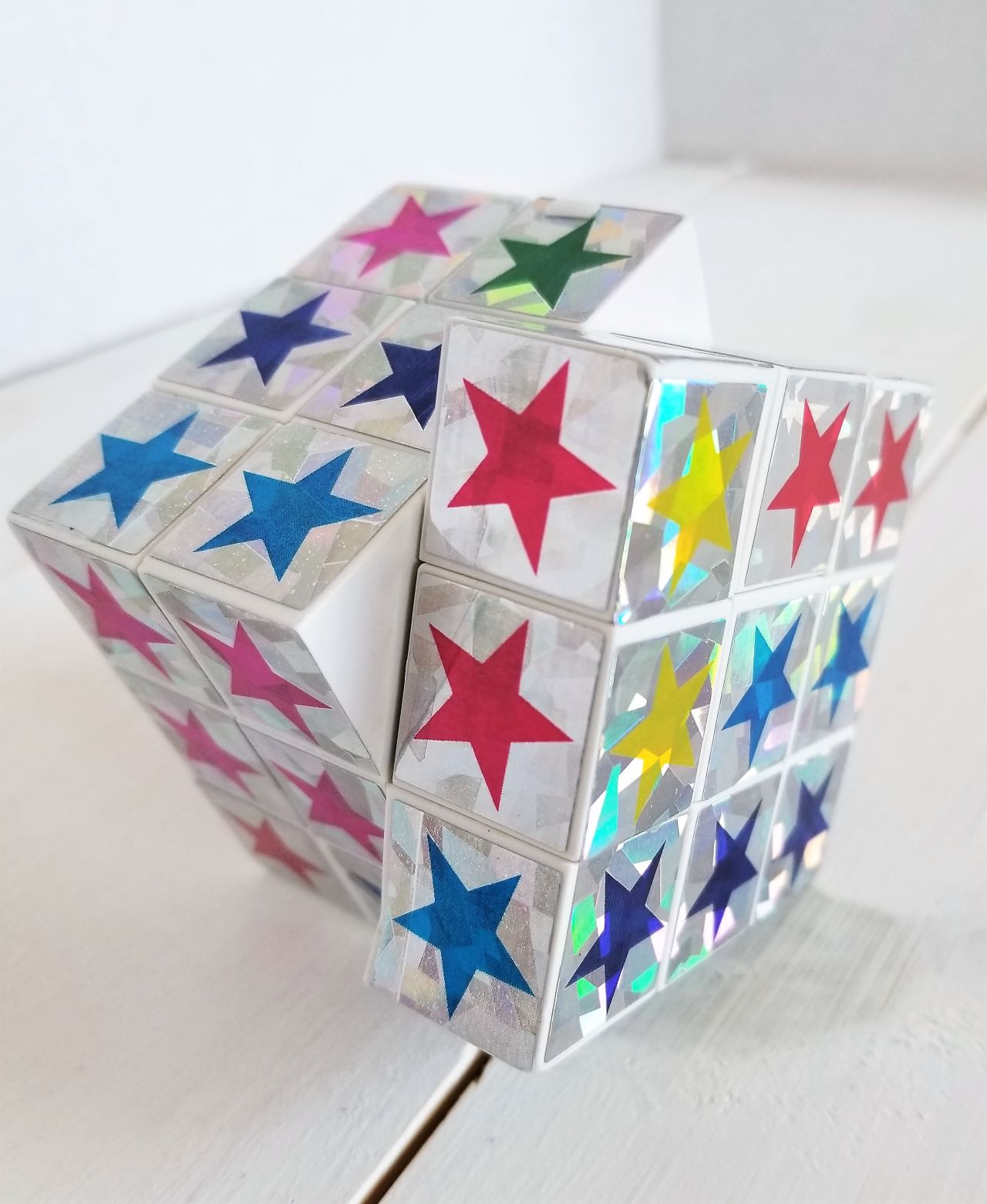 My son often likes to just sit and fidget with puzzle cubes and Rubix cube type toys. However, I didn't want to buy him a brand name Rubix cube or other more expensive cubes. I fear he might lose them, and I just don't have the money to replace them every time.
I found this cheap version at the dollar store. It's obviously of lower quality. My son doesn't mind because he doesn't use them as a "challenge". He's not into figuring out puzzles, per se. He simply likes to move the side and see what kind of color combinations he can make.
Lightweight Scarves
The alternative education and special education communities have a name for scarves used for play: Play Silks. Typically, play silks are a long piece of silky and colorful fabric that children can run and dance with, wrap around themselves, etc.
However, play silks can also be incredibly pricey. Seems a tad silly to me, given the fact that you can buy lightweight scarves for a fraction of the price in a variety of places.
Dollar Tree is a great example. I found a variety of lightweight scarves scattered throughout my local store, including the seasonal (St. Patty's Day and Valentine's Day) section and the clothing section.
For just a dollar, you can afford to buy a fun scarf for every season!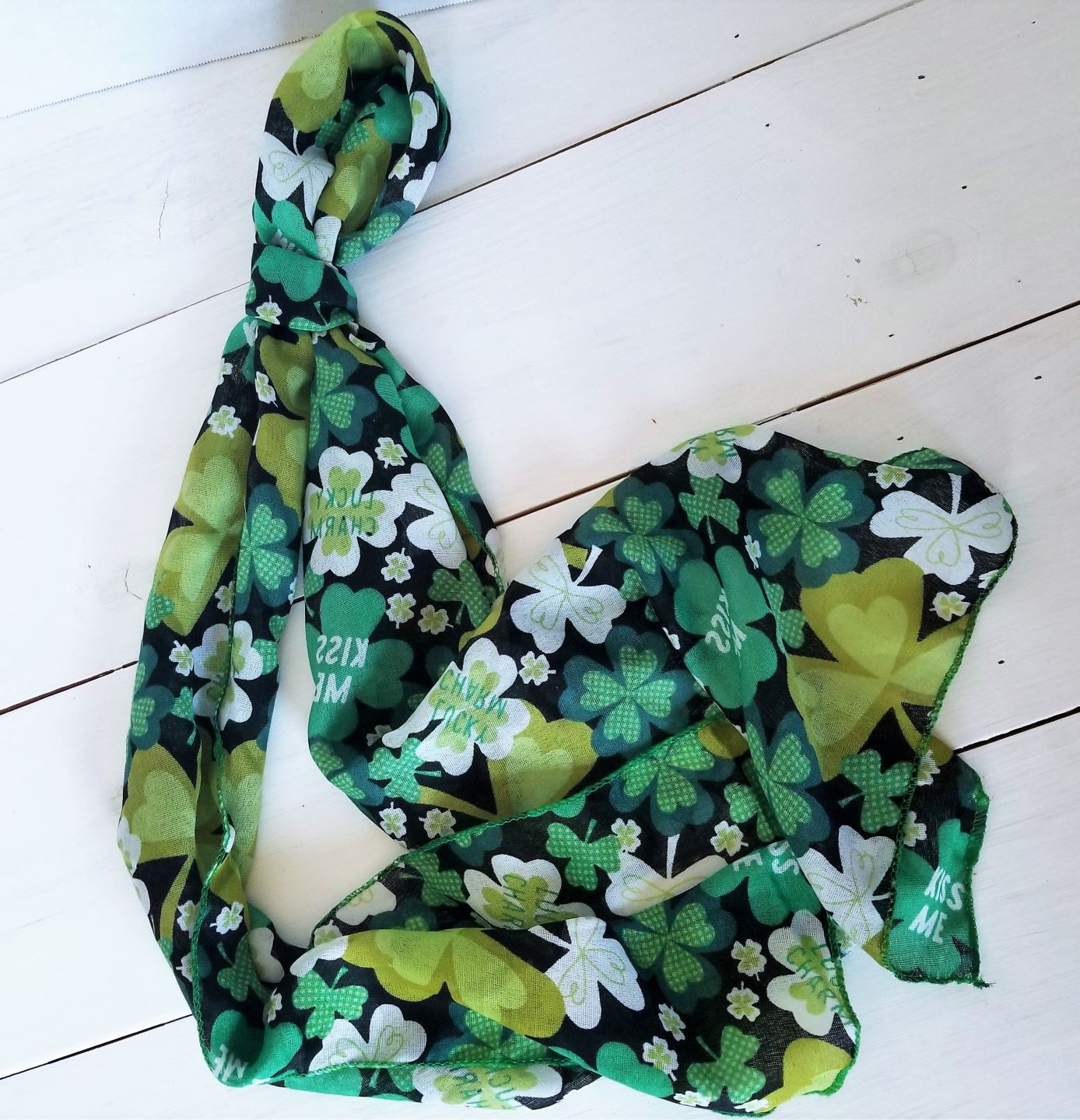 Colorful Hair Elastics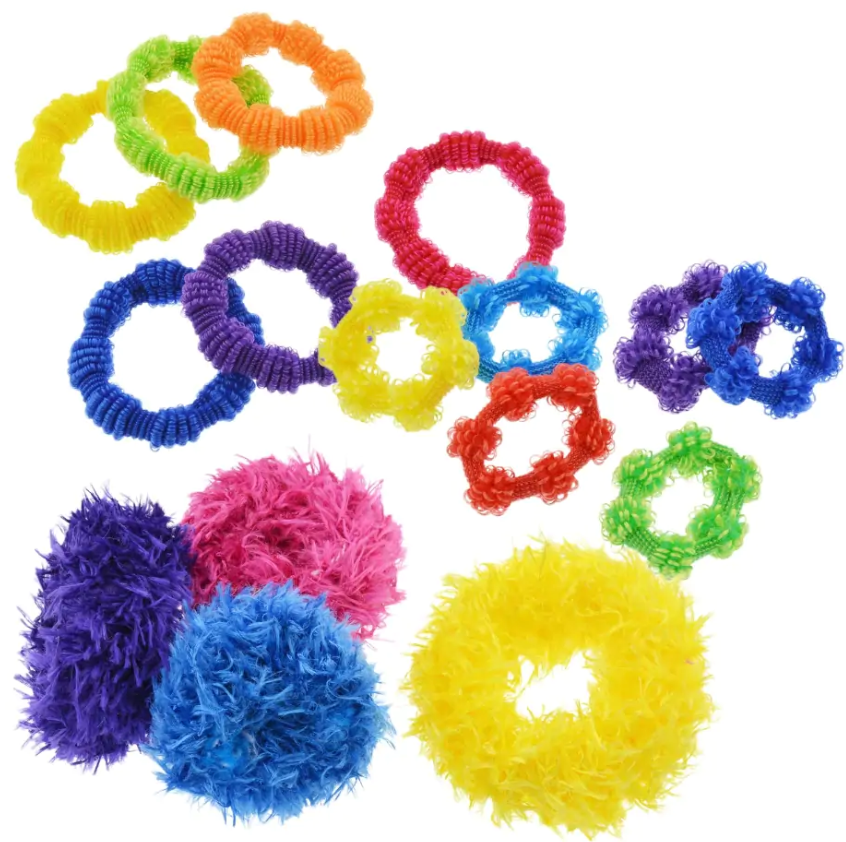 These colorful hair elastics were only $1 per pack. Your child can wear them at a wristband. Snap them or roll them up and down the arm in order to receive sensory input.
The bright colors also make a great source of visual sensory input.
Foam Hair Rollers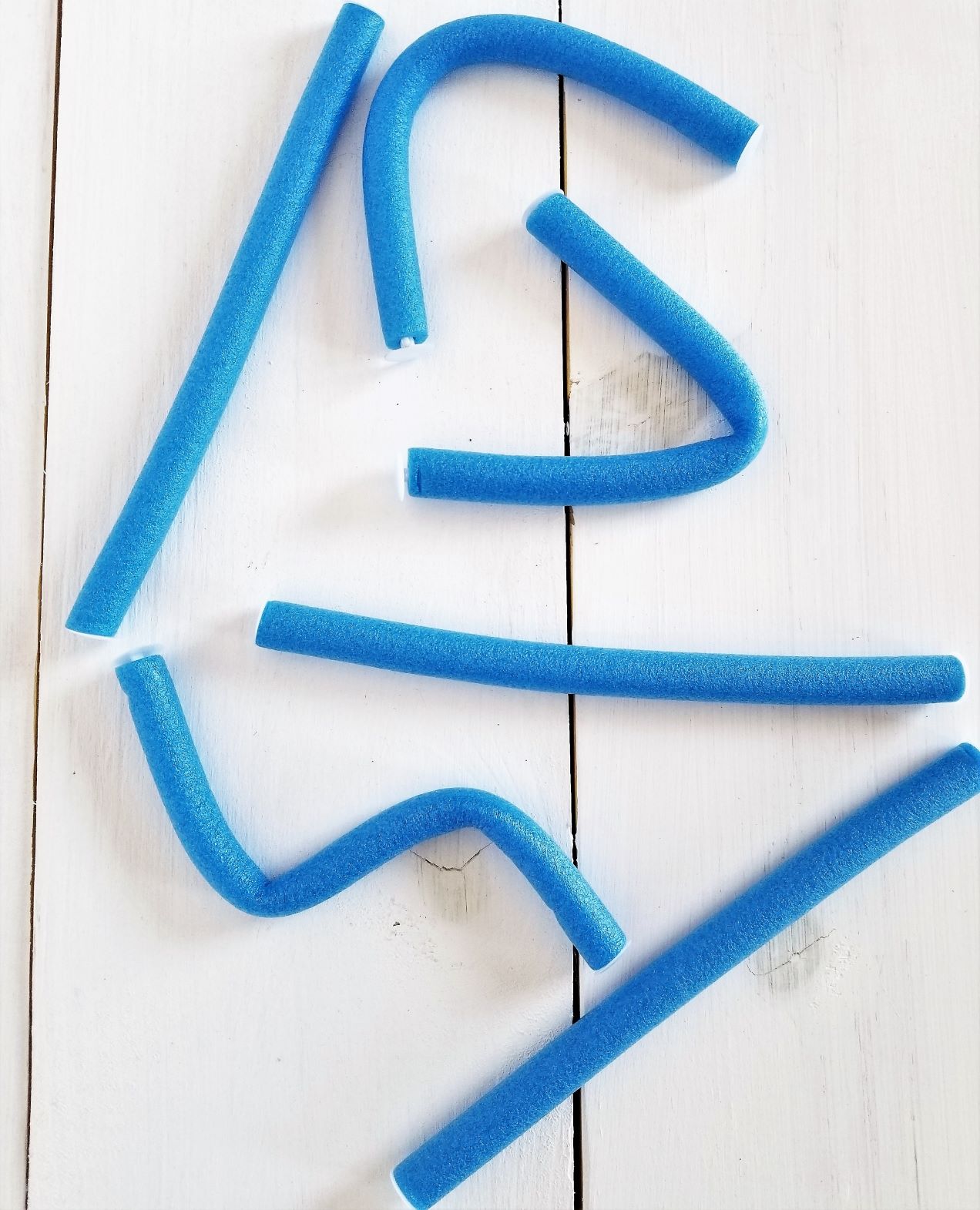 Has anyone else thought about this?!
While browsing the hair accessories section, mostly looking for the colorful hair elastics, I found this pack of foam hair rollers. They can be bent in a variety of ways. My son got quite the kick out of making various shapes, wrapping them around his wrist, etc.
There were red, blue, pink, and green at my local store. For $1, I think this was a great buy.
Motion Spiral Toy Bracelet
My son tried one of these motion spiral toy bracelets at his therapist's office a week ago, and he absolutely fell in love. Sometimes called "magic flow rings" provide a variety of sensory input, including light pressure on the arm that moves up and down your arm as you move the bracelet.
The movement makes for a great fidget activity. It's also fun to watch, making it a great source of visual input as well. The ring does take a bit of practice to get the hang of. However, it only took my son 5-6 attempts to get the gist of it down.
Magic flow rings retail for around $13 in most places, so you can imagine my surprise to find one at my local dollar store. They are certainly going to be of lower quality. But, if you're in desperate need of sesnory toys, the price can't be beat.
Sensory/Calm Down Bottle Supplies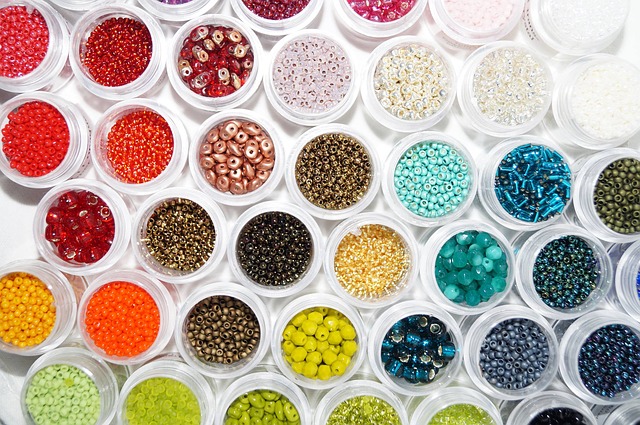 Lined up in my son's resource room at school is a variety of DIY sensory calm down bottles.
What are calm down bottles? Essentially, they are a clear bottle or container filled with beads, glitter, and/or other visual items. The bottle is then filled with a mixture of water and soap or oil so that the items float and shift when the bottle is rotated or shaken.
Visual sensory items are especially helpful for children who are sensory input seekers.
You can learn how to make your own sensory calm down bottles.
The dollar store is an excellent place to pick up supplies for making your own. I found a variety of colorful glitter, glass beads, and other visual items in the craft aisle.
Crinkly Toys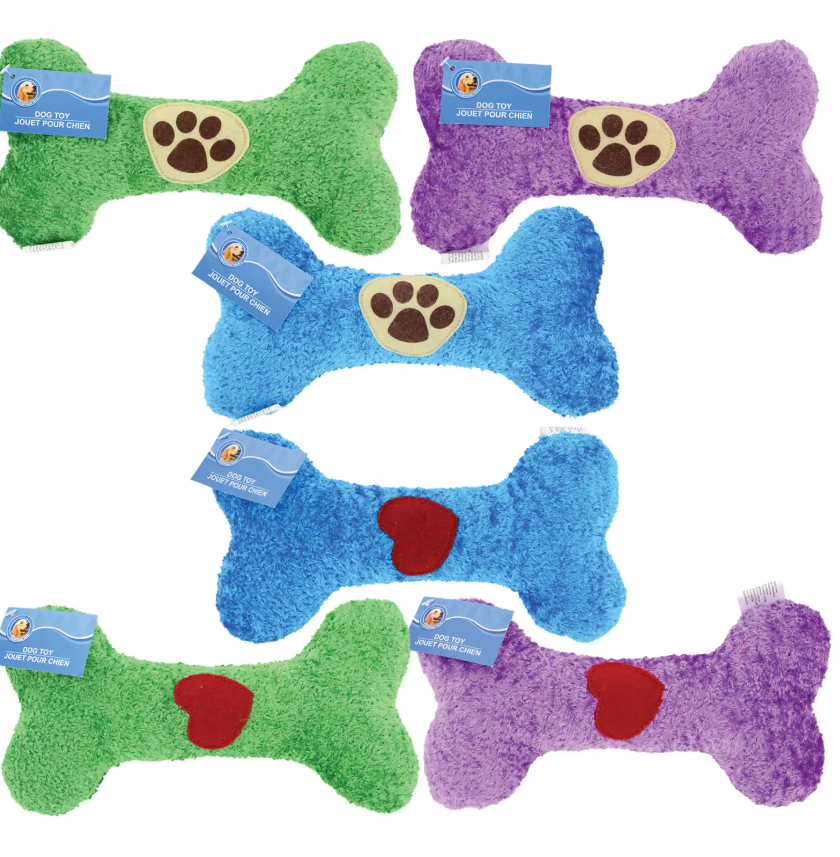 This choice of a sensory toy is not for everyone. However, because my son is such a huge fan of puppies, I took the chance to explore the pet section for any kid-safe toys.
No, pet-safe does not equal kid-safe. But, even the kids' toys mentioned in this post need to be used with caution. If you plan to peruse the pet section, I'd stick to fabric toys and/or durable plastic toys only.
I found these dog bone toys. They make a crinkly sound and have a crunchy feeling between your fingers, making them a great sensory toy.
Tote Bags and Baskets
Finally, the dollar store is a great place to buy something to hold or transport all of your fidgets!
My son has a tote bag at home that contains many of his fidgets and sensory toys. This makes it easy to grab-and-go when we need to go on a trip. It also makes it handy to switch out fidgets that he'd like to take to school.
Bonus: Dollar Tree carries tote bags in a variety of favorite kids cartoons and characters.
He also has one of these colorful oval carry totes at school that holds his fidgets. His resource teacher swaps them every few days, so he (and other kids) don't get bored with the fidgets in their calm down station.
Consider using these totes to make your own calm down station.
Fidget and Sensory Toy Safety Tips
Here are just a few tips to keep your kiddo safe and avoid accidents involving fidgets and sensory toys:
Look for toys that are washable. If your child tends to put toys in their mouth, look for words like non-toxic on the label.
Toys or toy parts should be no smaller than 1.75 inches in diameter for babies and toddlers age 3 or under. As a general rule, any object that can fit into an empty toilet paper roll is a choking hazard.
Avoid toys with loose string, ribbons, or cords when play is not supervised, as they can become tangled around a child's neck and pose a suffocation risk.
If your child likes to yank and pull apart toys, choose sturdy toys that don't have loose, moving parts that can easily come off.
Avoid toys with sharp points and edges.
Pin It: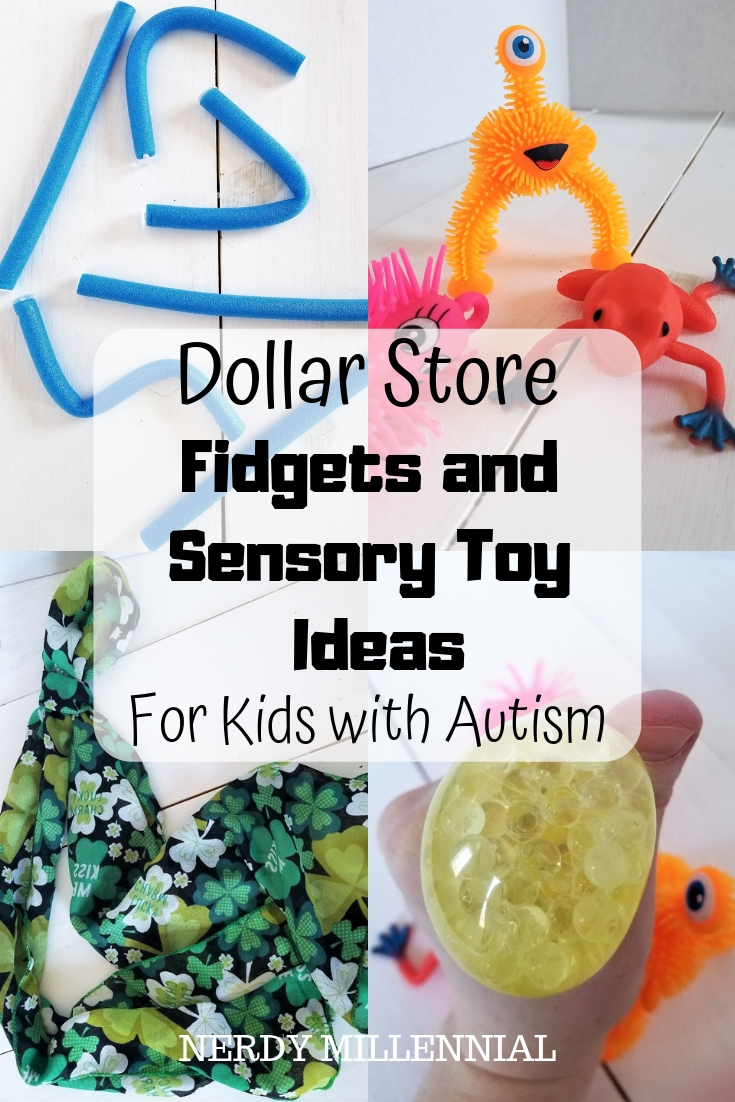 What affordable fidgets and sensory toys have you found for your kiddo? Let us know in the comments!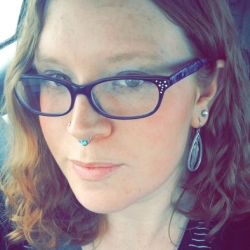 Latest posts by Vanessa Pruitt, PLMHP, MS
(see all)