Seventh Generation Free and Clear Diapers Review
When I first purchased seventh generation diapers, I was looking for an environmentally friendly, yet affordable disposable diaper product.
We had used cloth diapers collectively for over a year, with all three of our babies for some length of time, but we had begun to have problems with leaks and rashes and felt it was time for a break.
How Eco-friendly are they?
Seventh Generation diapers promise to be free of chlorine and fragrances, which I found appealing since one of my children has very sensitive skin.
What I didn't know, is that chlorine free diapers are actually white, but Seventh Generation adds tan colored dye to make the diapers appear more "natural". They are rather sneaky about this, too, as it's not stated in their online product descriptions, but is explained on the packaging.
I must say, I'm not too keen on paying extra money for a natural product that isn't as natural as possible. For now, it works for us, but I can't say that I really trust Seventh Generation in this regard.
Sizing
My 12-month-old and my 3-year-old were both wearing the same size diaper, so I ordered a box of Seventh Generation Free and Clear Diapers from Amazon.com in a size 4, the same size they wear in other disposable diaper brands. I also made sure to check their sizing chart.
I was a little disappointed that the Seventh Generation size 4 diapers seemed a bit on the small side.
If I order again, I will be ordering a size 5.
The size 4 diapers are tight on my youngest son, who is 27 lbs, even though the sizing chart says that a size 4 fits babies up to 37 lbs.
Absorbency
These diapers are definitely less absorbent than other brands. Those who are used to disposable diapers will notice a difference.
We've had some leaks overnight and some blowouts. The elastic on the legs is just not as good as other name brand disposables. If the diaper is wet, we've had it fall off of our 3-year-old several times while he was playing.
Still, they work well and will be easy for a former cloth diaper user to adjust to. The slight difference in absorbency seems a reasonable price to pay for a more environmentally friendly choice.
Price
When ordering through Amazon.com subscribe and save, these diapers are only slightly more expensive than the diapers I buy in the store.
Plus, I got free shipping through my Amazon Prime membership.
Final Verdict
Overall, I like these diapers, and I like knowing that my family is making a slightly lesser impact on the environment, even when we can't use cloth diapers at the moment. I will be exploring more options for chlorine free diapers, though.
Seventh Generation diapers are good options for cloth diaper families who want a convenient alternative for outings, camping, and long distance trips, or for families who can't use cloth diapers at the moment, but still want to be environmentally conscious.
See: Seventh Generation Free and Clear Baby Diapers on Amazon.com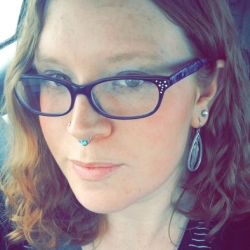 Latest posts by Vanessa Pruitt, PLMHP, MS
(see all)