Super Simple Soaked Banana Bread
Everybody Loves Banana Bread!
There are few recipes I can think of that are as crowd pleasing as banana bread. My family loves bananas, and I always save the over ripe ones in my freezer. As soon as my freezer is overflowing with bananas, I do one thing.. make banana bread!
I always make two loaves. Usually one with nuts and one without, because my family's loves for nuts in banana bread is split 50/50.
I've always made my banana bread with whole wheat flour, but since I've been learning more about how to properly prepare grains, I wanted to develop a fail proof soaked grain banana bread recipe.
If you think that soaked banana bread is harder to make than regular banana bread… it's not! It's quite easy and a great recipe for the amateur and experienced bakers alike.
My favorite way to serve banana bread is slightly warm and slathered in real butter, but it's perfectly acceptable served at room temperature. And my favorite thing about this recipe is that it's just as good for dessert as it is for breakfast.
Want more soaked grain recipes? Try these: 24 Super Simple Soaked Grain Recipes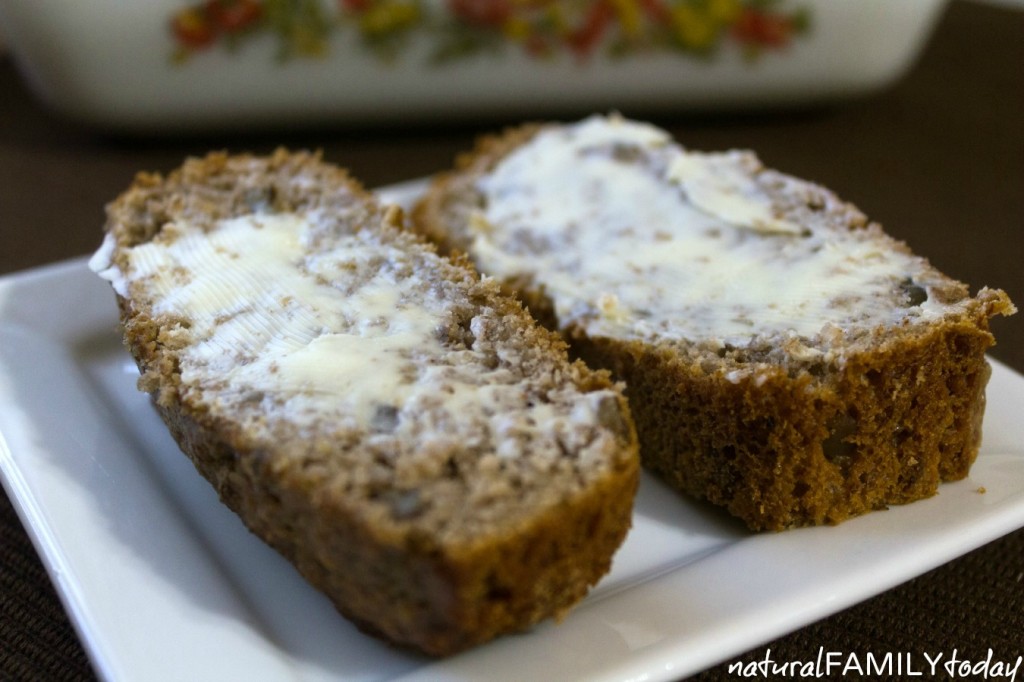 Soaked Banana Bread Recipe
Making soaked banana bread is just like making "regular" banana bread, except for the extra soaking time. The easiest way to make it is to let it soak all day and bake the bread in the evening or let it soak all night and bake it in the morning.
Read the recipe for full instructions on soaking and baking. Enjoy!
Equipment Needed:
Whole Grain Oatmeal Raisin Chewy Granola Bars
Ingredients
1 Stick (1/2 cup) unsalted butter or coconut oil
1 1/2 cup whole oats
1/2 cup whole wheat flour
1/4 tsp baking soda
1/4 cup whole cane sugar
1/4 cup honey
1 cup raisins, chocolate chips, or cranberries
Instructions
Preheat the oven to 350 degrees and grease a 9x9x2 pan. Melt the butter.
In a medium bowl, combine all of the ingredients. Stir until all of the dry ingredients are wet and a course mixture is formed.
Transfer to the pan and press firmly and evenly into the bottom of the pan.
Bake in the oven for 25 to 30 minutes, or until golden on the edges. Watch carefully so it doesn't burn!
http://nerdymillennial.com/super-simple-soaked-banana-bread/
Does your family love banana bread?
Vanessa founded NerdyMillennial as a platform for millennial creatives to share their passions, ideas, and expertise. Vanessa has lost over 80 lbs from healthy eating, fitness, and mindful living and wishes to inspire others to do the same. She also shares her knowledge about blogging, psychology, and culture.
Latest posts by Vanessa Pruitt (see all)